Hardwood Flooring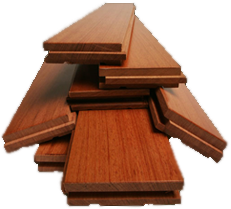 The elegant look of a hardwood floor can add warmth and character to any room in a home. The natural characteristics of wood add depth and a visual appearance that many other types of floors try to duplicate. With the demand for hardwood flooring growing manufacturer's are enhancing their ranges to meet this demand, with better quality finishes and superior construction techniques.
Hardwood floors come in a wide variety of wood species, colours and widths. Besides the classic hardwoods (like red oak, white oak, maple and ash) many manufacturers now offer exotic hardwood species from all over the World. Exotic hardwoods give homeowners the chance to better express their own personal decorating tastes with a more unique looking floor. With so many different types of hardwood flooring now available it is sometime hard to choice which is best suited to you.

Pre-finished Wooden Flooring
Unfinished Wooden Flooring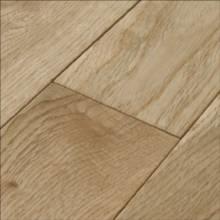 Solid Wood floors are one solid piece of wood that have tongue and groove sides and come in either pre-finished or unfinished styles. Solid wood floors are sensitive to moisture and it is not recommended to install these floors below ground level, or directly over a concrete slab. These floors are for nail-down installations only. You can refinish, or recoat solid wood floors several times, which adds to their appeal and to their long life. There are solid floors that are over 100 years old and are still in good condition.
All solid wood floors will react to the presence of moisture. In the winter heating months, moisture leaves the wood causing the floor to contract which leaves unsightly gaps between each plank. In the summer months when the humidity is higher the wood will expand and the gaps will disappear. If there is too much moisture it may cause the wood planks to cup, or buckle. This is why it is important when installing a solid strip floor to leave the proper expansion area around the perimeter and to acclimatize the wood prior to installation.
Engineered Wood Flooring - These floors are constructed from several wood plies that are glued together. The centre core is generally a softer wood material and is used to make the tongue and groove. A hardwood finish layer is glued on top of the centre core and another softer wood ply is attached underneath the core. This top ply is also called the finish layer and can be constructed of almost any wood specie.
Wood always wants to expand in a certain direction. In the presence of moisture solid wood planks will always expand across the width of the planks, rather than down the length of the boards. To avoid this problem, manufacturers of engineered planks place each ply in the opposite direction of each other. This is called cross-ply construction. Once the wood layers are glued together the plies will counteract each other which will stop the plank from growing or shrinking with changes in the humidity. Engineered wood floors are designed for the floating installation and can be glued together or some now come with a click system.
Veneer Wood Floors are very similar to laminate floors. The only difference is that with a veneer flooring to top wear layer is a thin piece or real hardwood instead of a photographic image as in laminates.
Veneer flooring is usually around 8mm in thickness with the top hardwood layer being around 0.7mm. Advantages of a veneer floors are that they are fast and easy to install and you have a real hardwood floor.
Factory Pre-finished Wooden Flooring
Most factory finished hardwood floors have several coats of finish applied to the wood's surface. As example, many wood floor companies are applying 6-10 coats of a ultra-violet (UV) cured urethane. This would be extremely difficult for someone to duplicate on a job site finish, not to mention how many days it would take. This is one of the reasons why many flooring mechanics, flooring retailers, and builders are pushing pre-finished hardwood floors. Instead of taking several days to install and finish a new hardwood floor a pre-finished hardwood floor is generally done in one day. The most common finishes are:
UV-cured Factory finishes that are cured with Ultra Violet lights versus heat.
Polyurethane A clear, tough and durable finish that is applied as a wear layer.
Acrylic-Urethane A slightly different chemical make up than Polyurethane with the same benefits.
Aluminium Oxide Added to the urethane finish for increased abrasion resistance of the wear layer, which is becoming extremely popular on the better grade wood floors.
Acrylic Impregnated Acrylic monomers are injected into the cell structure of the wood to give increased hardness and then finished with a wear layer over the wood.
Unfinished Wooden Flooring
If you want a custom stained hardwood floor, or a wood floor to match existing trim than a unfinished hardwood floor is your answer. Unfinished means you start with a bare hardwood floor and than the floor is sanded, stained, and finished in the home. This can be quite a mess and the process does take several days, but your floor will have a finish to you requirements.
Installation Options
Nail Down Secret nails are used with a wood flooring nailer and mallet to attach the flooring to the sub floor. Solid Strip floors or Plank floors can only be installed on wooden sub-floors or on batons.
Glue Down Engineered wood floors and parquets can be glued down. This is when you spread the recommended glue all over the sub floor and lay the flooring into the glue.
Floating This is when a thin underlay is placed between the wood flooring and the sub floor. A recommended wood glue is then applied in the tongue and groove of each plank to hold the planks together. Engineered & Veneer floors can be floated. This is a very fast, easy and clean method of installation.